Volunteering & Interning at the Great Plains Dinosaur Museum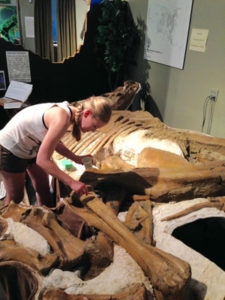 Operating such a unique museum in a sparsely populated area of Montana is challenging. The museum receives no government funding for its operating costs. Instead, it relies solely on funds generated by admissions, gift store sales, programs and memberships to meet its operating costs. Without volunteers, the museum would be limited in the programs and opportunities it offers.
The Great Plains Dinosaur Museum                                                                      offers a variety
of volunteer opportunities for all ages: educational programs for adults and children, fundraising events, fossil preparation, working in the gift store, or social media coordination. Volunteers also choose their own days and time. So, whatever you'd like to do and whenever you'd like to do it, the Great Plains Dinosaur Museum is grateful for your help!
2022 Internship Positions 
The Great Plains Dinosaur Museum and Field Station is pleased to announce our summer 2022 internships. This year the GPDM will be hosting one paleontology internship position:
1) Fossil Preparator
Thanks to the Montana Department of Commerce's Tourism Grant, the G.P.D.M. has a new fossil preparation lab. This internship will consist largely of preparation of dinosaur fossils the G.P.D.M. has collected from the Hell Creek, Judith River, and Morrison Formations of Montana.
Click here to view the Fossil-Preparator-Internship application.
We welcome all applicants from every background, but the preferred candidate would be a student in the paleontological science who would genuinely benefit from this learning experience. For questions or comments please email dinosaur@itstriangle.com. Applications due by Friday April 8th.
"I loved my internship at the Great Plains Dinosaur Museum; it provided me with an excellent opportunity to experience a more practical side of palaeontology than I have had the chance to learn at university or would likely have in my home country of England. Through my internship, not only was I instructed in fossil preparation, but I also learnt about and got hands on with proper fossil storage, excavation, jacketing, prospecting and the general workings of a museum.
Despite being so far from home, everyone at the museum and the community went out of their way to make me feel welcome, from providing emotional support to supplying kitchenware. Alongside working at the museum, I had a fantastic time experiencing a different culture and there was always someone happy to accompany me or show me around. I would definitely recommend the GPDM internships to anyone looking to improve their knowledge of palaeontology and palaeontology as a vocation."
Emily Keeble; 2018 Intern; Hampshire, England

"The internship experience at the Great Plains Dinosaur Museum was incredibly instructive. Not only did I learn field paleontology practices, such as excavating and jacketing fossils, but I also learned what went into the design and execution of youth and adult museum educational programs. As a non-native English speaker, the opportunity to engage and interact with museum visitors, children, and program participants was an invaluable first-hand experience.
With its amazing paleo resources, literally past its doors, Malta is a perfect location for a deep immersion in paleontology; and the people of Malta are well informed and proud of their town's ancient heritage. While interning with the Museum, everyone – the Museum staff and Board as well as the whole community – took great care to make sure I was comfortable, enjoying myself, and learning in a new country. I would strongly recommend this internship to any level of student wanting to improve their museum skills: from field and preparation techniques, to educational programs, to learning the ins and outs of museum operations."
Lorenzo Lustri; 2017 Intern; Bologna, Italy